A short documentary recently released in Netflix tells of the 30-year search for John Shepherd, a self-taught electronics artist who tried to contact extraterrestrial intelligences by sending messages and music into space.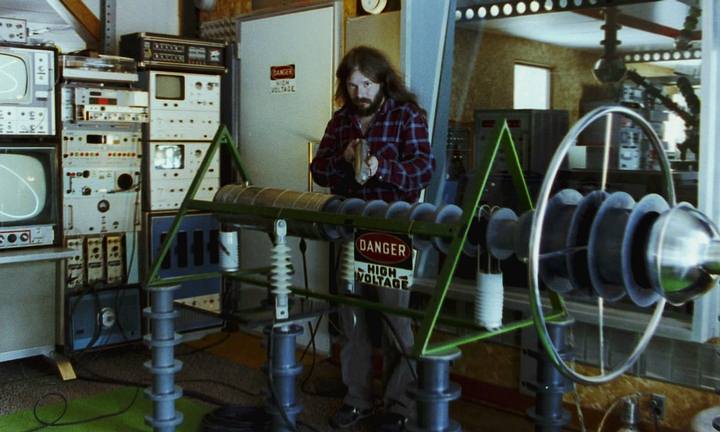 In the mid-1960s, as a young boy living in rural Michigan, John Shepherd began devising ways to establish contact with alien life forms. "It was around the time that the series came out The Outer Limits on television », he details. "I remember being fascinated by the idea of ​​somehow building my own scientific instruments to explore the mysterious phenomenon that is extraterrestrial life."
In 1972, from the living room of his grandparents' house, he made the first transmission of a series of electronic pulses to the stars in what he called Project STRAT (an acronym for Special Telemetry Research and Tracking). It would soon become a job that would occupy much of his life and that of his grandparents, who found themselves living in the midst of a host of instruments, including dual channel oscillators, cathode ray tubes, giant screens to monitor incoming signals. and a low frequency transmitter.
Although he was short on money, he was getting by on scraps from military sales and what he could get at an electronics store in the nearby town of Traverse.
30 years in 16 minutes
This month, Netflix has released an intriguing short called Jhon was looking for an extraterrestrial contact, which earlier this year won an award for best documentary short at the Sundance Film Festival. Filmed, edited and directed by Matthew Killip, son of revered British photographer Chris Killip, it condenses three decades of searching into some 16 magical minutes.
"He wanted to tell his story in a concise way, but keeping some of the mystery intact," says Killip. "John is a wonderful guy, but there is something enigmatic and cautious about him that perhaps comes from his difficult childhood. I tried to balance that narrative with his extraordinary obsession, which lies somewhere between the realms of science and fringe art. The more I think about what he did, the more it seems to me like an elaborate artistic performance of 30 years.
In the 1970s, Shepherd's obsession intermittently attracted the attention of local reporters. In 1989, she had her 15 minutes of national fame when she appeared on. The Joan Rivers Show. On YouTube, one can see him, a young man with long hair and a beard, between two ufologists explaining his mission to a skeptical host who points out that, after many years of trying, the aliens had not responded to any of his calls. Faced with the latter, the response was: "Just as an artist continues to paint despite not having sold his paintings, I continue to build teams and work on ideas."
By then, with the help of his grandmother Irene's savings, Shepherd had built a spacious two-story laboratory next to the house. "While my body was in the local community, my mind was in space and other realms, traveling through the cosmos," he says.
"From time to time people who passed at night in their cars would see the lights and park to look. Maybe they had seen an episode of The Outer Limits too and they wondered what was happening. I even remember people who thought we had built a Russian spy system. "
In Killip's portrait of the protagonist, his sensitive soul emerges, his awareness of being different from others and at the same time one with everything. The short briefly touches on his troubled first years of life – a father who abandoned him and an emotionally distant mother. "Things were tough at first," he tells the director. "My grandmother felt sorry and took me with her." At 12, Shepherd realized he was gay, which, he admits, was rather difficult for rural Michigan in the 1960s.
"Most of what I did was self-taught, but my grandfather, who had worked as a toolmaker in Detroit, often helped me with practical things. But it was my grandmother, I think, who shared my interest in more exotic matters. She definitely had the feeling for it and it brought a lot of inspiration into my life. " (In fact, Irene died in 1988 and the film is dedicated to her.)
In a moment of emotional self-reflection, Shepherd compares his life's journey to one where he has to travel "a lonely mountain road." That changed when he met his partner, John Litrenta, in 1993, with whom he now lives a quiet life in a lakefront house between two towns.
In 1998, due to lack of funds, all the equipment for contacting aliens was dismantled and placed in a warehouse, where it remains to this day. This is what remains, the remains of thought. I miss it, I really do, but I saved everything. It's like a collection of beautiful objects, waiting there, "he says in the documentary.
Here is the official trailer:
If you are reading this from your mobile device and you have the Netflix, you can directly see the documentary film by doing CLICK HERE.
Source: The Guardian