Mars Global Surveyor arrived on Mars on 11 September 1997 and has contributed to a multitude of discoveries, including signs of water, ancient rivers and water features currently active in the walls of canyons and impact craters. After nearly a decade of discoveries, MGS went down in November 2006, but conspiracy theorists say the MGS orbital spacecraft continues to secretly photograph some sites deemed important for NASA and for future space missions that will bring human colonies to the Red Planet.
In a photograph of NASA and taken from the MGS probe, a mysterious square structure is visible and just below two hills that seem to describe a face of a sphinx. The square structure is eroded over time and partially covered by Martian sand. According to the researchers, it could represent a very ancient and enormous Martian archaeological site with a sphinx visible at the bottom.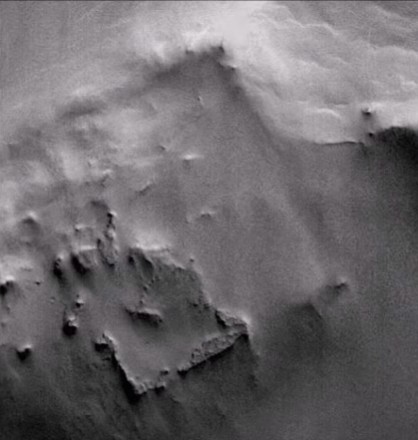 In past years NASA's Rovers have captured countless stunning images of anomalies that appear to be carved or artificially constructed on the surface of the planet Mars. The photographic evidence of many structures such as walls, fences, the ruins of ancient cities, could be proof that Mars was once inhabited by Alien civilizations. Buildings, statues and other anomalies have been altered, eroded or partially buried under the sands of the red planet.
NASA has admitted that it has no definitive answer to this conundrum. In addition to the image above, there are other areas of the planet's surface that show equally disconcerting "structures". UFO hunters and space anomalies see these structures as conclusive evidence that an ancient alien civilization may have been present on the surface of Mars in the distant past.