The Ministry of Tourism and Antiquities will reveal the greatest archaeological discovery of 2020 in the coming days, in a press conference that will take place in Saqqara, a site of the necropolis where several dozen intact coffins have been unearthed in recent months.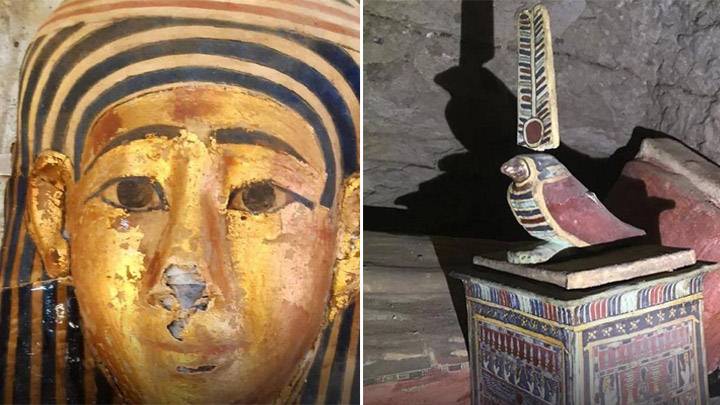 According to the little that has been made known so far, the excavations of the Egyptian mission that is working in Saqqara have resulted in the discovery of more than one hundred coffins in good condition, which would belong to high officials and priests of the XXVI Dynasty.
"The archaeological mission has found new burial pits that contained a large number of colored anthropomorphic coffins, surpassing the number of sarcophagi discovered at the beginning of October," the Ministry of Antiquities has said in Facebook.
Archaeologists have also identified wooden statues and golden masks that maintain their original polychrome.
Archaeological gold mine
The last October 3, after the stoppage due to the coronavirus pandemic, Egypt presented the first major discovery in recent months: 59 wooden sarcophagi in perfect condition with their mummies, dating back 2,600 years. The chests belong to the Late Period and, specifically, to the XXVI Dynasty (664-525 BC), the last before the Persian conquest.
Two weeks later, the Ministry gave an advance from what seems to be confirmed in the present news, the finding of another batch, this time larger, of coffins in the same necropolis.
The excavations of this Egyptian mission in the Saqqara necropolis began in April 2018, when dozens of mummified animals were discovered. The most prominent being the beetles and lion cubs for their rarity.
A documentary by Netflix, The secrets of the Saqqara tomb, has made a site that seems inexhaustible even more current and that will undoubtedly provide a lot of material for the future Great Egyptian Museum (to be inaugurated in 2021 and destined to be the largest of archeology in the world).
Source: Ministry of Antiquities