The United Arab Emirates (UAE) Mars Hope mission is the first for several reasons. When the probe reaches Martian orbit in 2021, it will be the first to get a complete picture of the Martian atmosphere, offering a comprehensive perspective on how Martian climate varies in a year. It will also be the first interplanetary mission led by an Arab and Muslim-majority nation.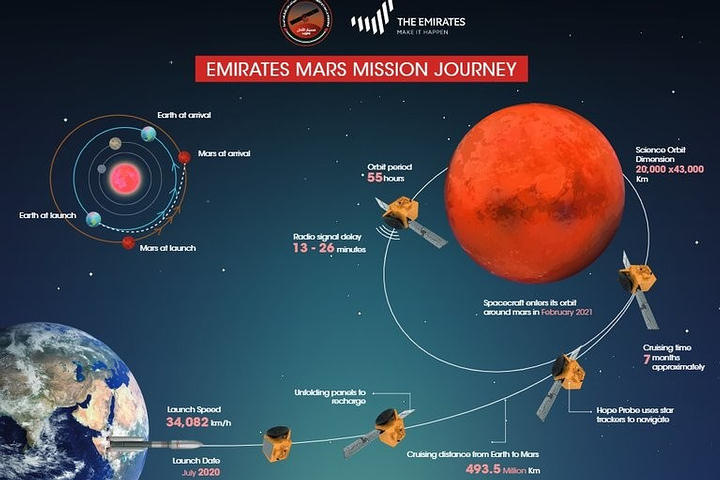 The UAE mission to Mars and the Hope probe mark the culmination of a joint development and knowledge transfer effort by Emirati engineers with partners around the world to design and manufacture the devices and spacecraft, with a scientific team in place 80% made up of women.
"The purpose is not to send a message or statement to the world," said Sarah Al Amiri, Minister of State for Advanced Sciences, president of the Council of Scientists and deputy director of projects for the mission. "It is, for us, an internal reinforcement that tests the UAE's capabilities."
What will they study and how long will the mission last?
The sent satellite will study the connections between the upper and lower atmospheres of Mars, and examine the causes of the loss of hydrogen and oxygen to space. The data will be collected over a two-year period beginning in February 2021, when Mars Hope is expected to reach Martian orbit. Also, the mission could be extended if necessary.
Weighing 1,350 kilograms and the size of a small car, the spacecraft will have three instruments that will allow it to do its job intensively. A high resolution camera known as EXI (Emirates eXploration Imager), the EMUS ultraviolet spectrometer (Emirates Mars Ultraviolet Spectrometer) and the EMIRS infrared spectrometer (Emirates Mars InfraRed Spectrometer).
How to watch the live launch?
The launch will take place from the Tanegashima Space Center, located in southwest Japan. It will be at 5:51 am (local time) on Wednesday, July 15 (still Tuesday 14 in the West), using an H2A rocket from Mitsubishi Heavy Industries. In case weather conditions prevent the launch, the window will run until August 13, 2020.
The Mohammed bin Rashid Space Center will broadcast the event from Japan. This news will be updated with the streaming Official live as the specified date approaches.
Source: CNET