Famous American writer Howard Phillips Lovecraft, suffered from nightmares and lived in poverty. It was he who founded the whole universe in which the ancient deities, demigods, and monsters, invented by him, fit in.
His work has inspired authors such as Stephen King , Guillermo Del Toro , Neil Gaiman and many others. Therefore, Howard Phillips Lovecraft is quite rightly considered one of the creators of the horror genre.
It is known that changes were made to the writer's work. And the "Lovecraft Universe" was supplemented by new authors. So many of the monsters weren't created by Howard himself. But today we will pay attention to those characters that the writer himself invented. We will choose from them the most famous and creepy
Cthulhu
In fact, the true pronunciation of this monster's name was known only to the author himself. It was pronounced in an ancient language that was completely incomprehensible to humans.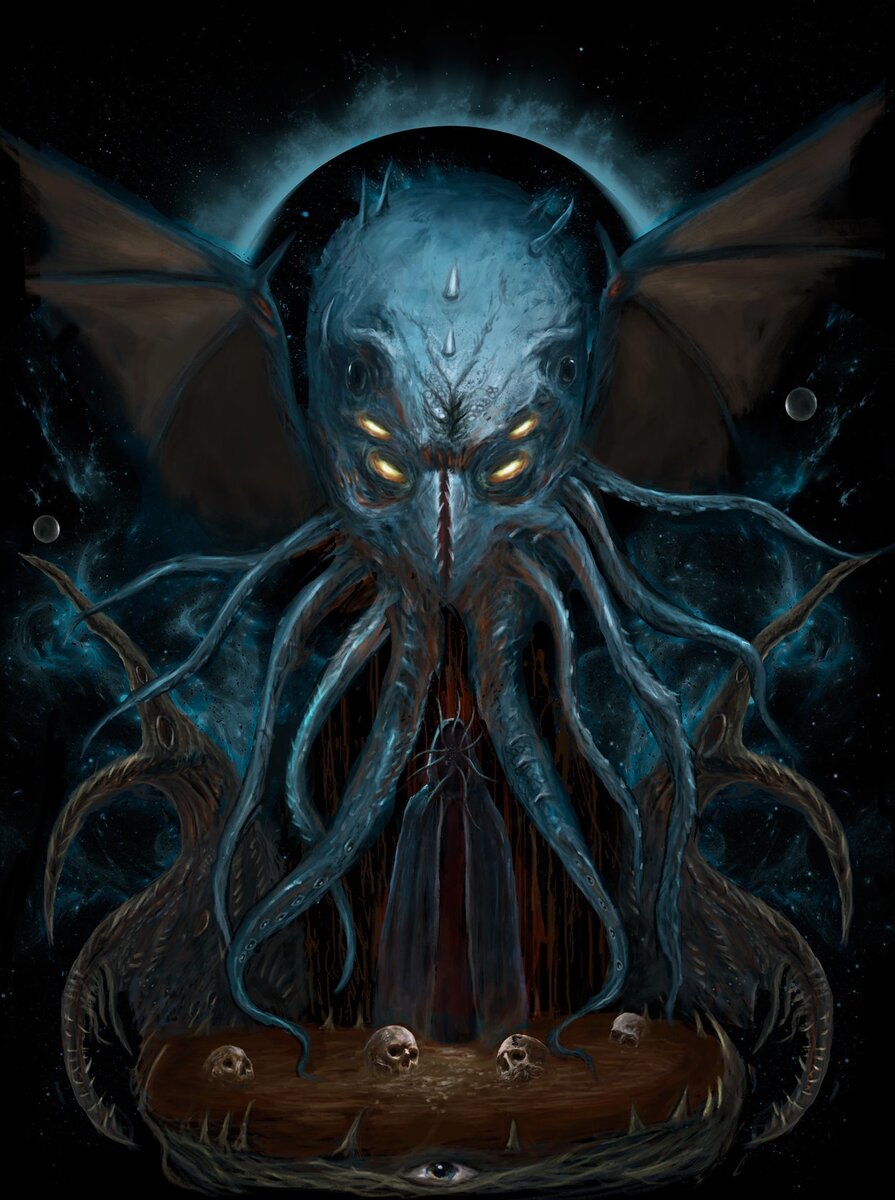 This monster is located at the depth of the ocean in a once flooded city. He is waiting for the moment when he can wake up and start wreaking havoc on the planet. In the meantime, he comes to people in dreams and beckons to his dark kingdom.
Cthulhu is a giant monster. This humanoid creature is covered with scales, its head is similar to the head of an octopus, large tentacles are located on the face. On the hands of the monster you can see the claws. On the back are two wings, like a bat.
Dagon
A well-known name for those who are fascinated by ancient mythology and those who have some knowledge of ancient deities. Dagon was indeed a god among the West Semitic peoples. He was the god of agriculture and probably patronized fishermen. Therefore, he was depicted with the tail of a fish.
Lovecraft used this image to create his Dagon, which, being a water monster, appears in the book – The Shadow over Innsmouth.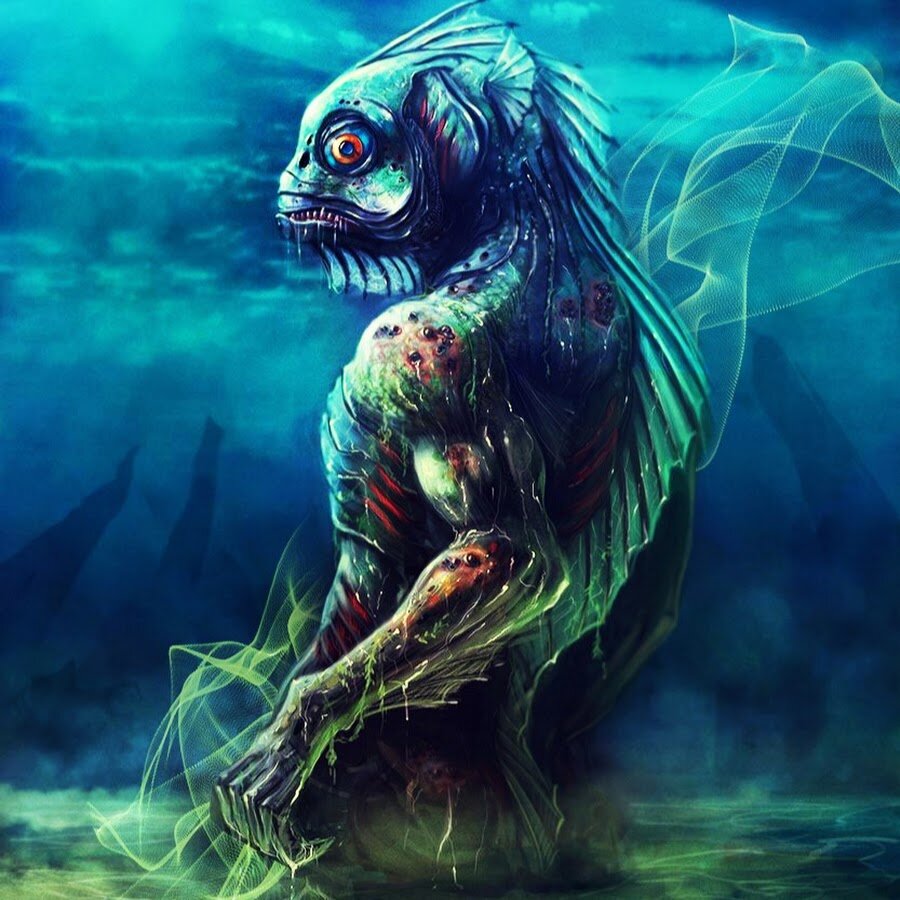 Dagon from the Lovecraft Universe is not a good god at all. There is no description of his appearance. But he doesn't really look like a person. For his patronage, the deity demands a great price.
Hastur
The name of this monster cannot be pronounced. But if you decide, then say it three times, and it will come to you.
He appears in a form resembling an octopus. But the real appearance of the creature has a formless shape.
Unlike a number of his other characters, Lovecraft created this one based on the story – "Shepherd Gaita", its author is Ambros Bierce, although the character from this story was kind, unlike Hastur.
Yig
It's about the father of snakes. This deity is actually not evil at all. But he knows how to punish his offenders by sending to them, the troops of his snakes.
Azathoth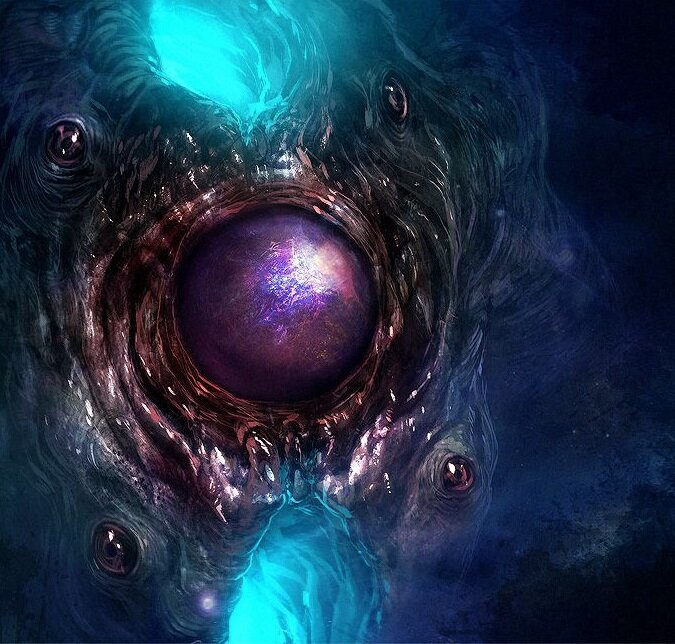 This is chaos at the head of the universe. He is called the Demon Sultan. This god is formless, but capable of taking on any form. Worshipers of this deity give him their mind, body and soul.
Azathoth is a very famous character in Lovecraft. The author repeatedly used it in his works.
Nyarlathotep
Also known as the Black Man. He is sent by Azathoth. He looks pretty good to himself. He comes in the form of a man with black hair, has a good sense of humor. On Earth, this god is a messenger who does the will of his master – Azathoth.
Shub-Niggurath
Lovecraft did not use this character in his works, he appeared in spells that were found in several works of the author.
Shub-Niggurath is translated as – Black Goat. This creature walks on goat legs but it looks pretty creepy and doesn't look like a goat at all. A shapeless thing with a face covered in tentacles and a multitude of slime-spewing mouths.
Yog-Sothoth
An omniscient deity that dwells beyond our universe and time. He knows everything, both the past and the present, and of course the future. This is one of the so-called outer gods that live outside our universe and outside our time.
Deep sea
These are creatures that live in the depths of the ocean. They look like frog fish. They come to the surface and can be offered human sacrifices in exchange for gifts. For example, if they are offered gold or precious stones, fishermen are able to fill the net with fish.
These creatures are able to enter into a close relationship with people. Such bonds produce half-humans, half-monsters.
Elders
Aliens who lived on the planet long before the appearance of people. They fought with the gods, built cities but they died during the Ice Age. They looked rather strange, resembling a mixture of animals and plants.
Guli (Ghouls)
Creatures that many science fiction writers are very fond of. They were human, but turned into ghouls. Guli are human-like monsters that live underground and do not go out into the sun. Human beings become ghouls for only one reason –cannibalism. After the transformation, ghouls continue to eat human flesh. In Arabic mythology, they are the lowest subspecies of Jinn.
Shaggoths
Protoplasmic masses that look like amoebas with many eyes. These creatures were controlled by the Elders and carried out their will. They were created for great physical labor but later everything changed. From unintelligent and weak-willed creatures, these creatures became able to make decisions and act as they please. This started a battle between the Shaggoths and the Elders.
Googie
Giants living in a dungeon in the land of dreams. They were cursed by the gods and now live in the underworld with no way out. Giants are distinguished by large mouths that open vertically.
Hounds of Tyndall
These dogs have changed several owners. Initially, their owner, and at the same time the creator, was Tindal. He was drowned by Dagon and the dogs were taken by Shub-Niggura which taught the new wards to be cunning and dexterous. After some time, the dogs were kidnapped by Cthulhu. The deity needed them to find their victims.
Mi-go
This is a whole race of aliens. They look like crustaceans, but are fungi. They are quite developed and flew to Earth to collect the minerals they required. They try not to interact with people, only with those they are able to share their knowledge.
Lovecraft created not only deities, but also monsters that were not always hostile to people. You can find even more interesting characters in his works. A great contribution to the "Lovecraft Universe" was made by the authors who adored the work of the famous writer, inventing new characters and events.