PVRIS are Artist Of The Year at the Rock Sound Awards powered by EMP!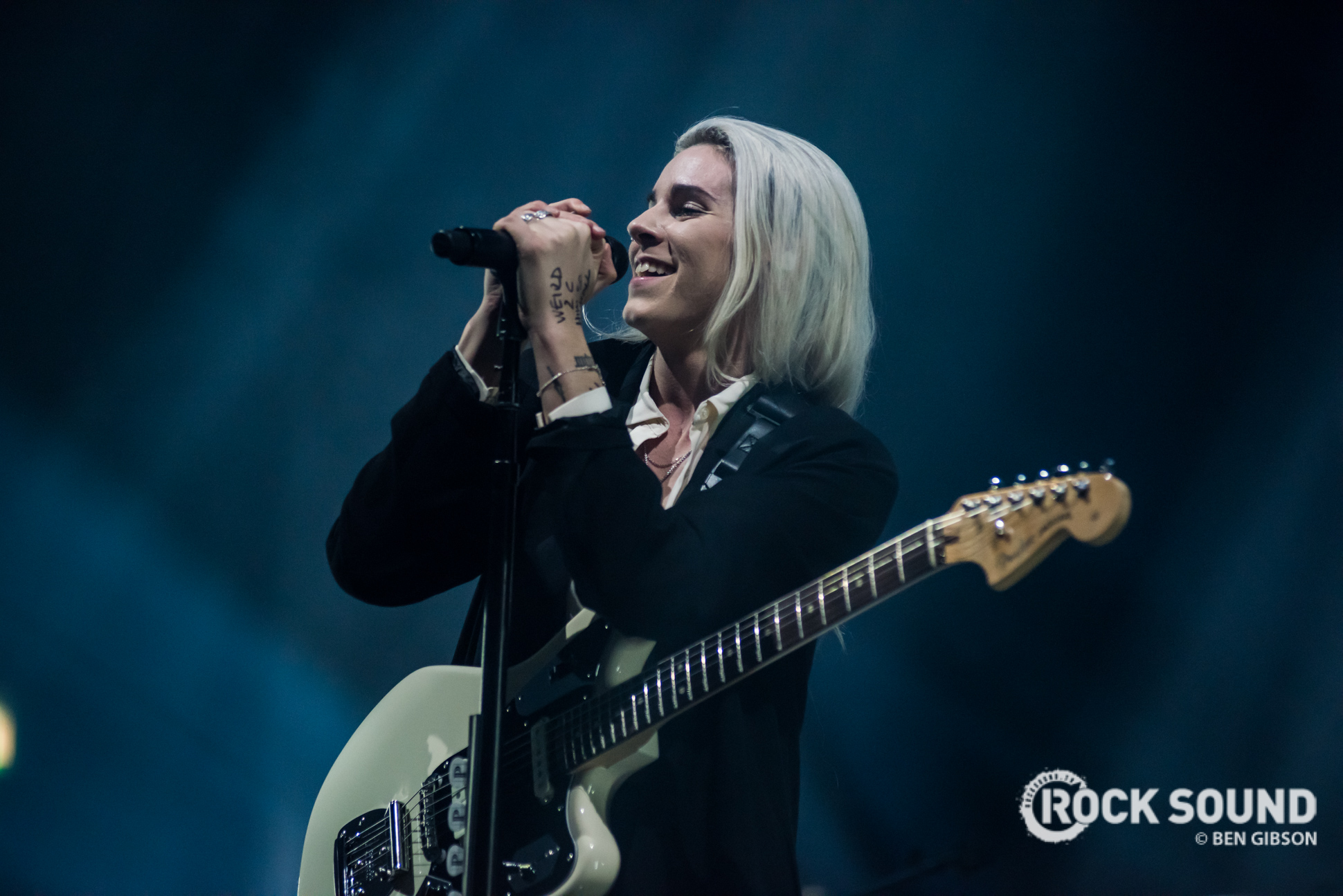 We have a HUGE interview with Lynn Gunn in the magazine (and you can listen in full below, too!), but here's a snippet to get you started…
DESPITE BEING SUCH A YOUNG BAND STILL YOU'RE ALREADY HEADLINING HUGE VENUES. IS THAT OVERWHELMING OR DO YOU FEEL COMFORTABLE THERE?
Says Lynn: "Yeah we're still young! It's definitely reaffirming, like what we're doing – something here is reaching people and they're picking up on it, but then there's like the perfectionist in me that's always just like, 'I don't feel ready' or, 'I don't think we're cut out for this level yet' or 'I think we should be a little bit below this'.
"I guess this is taking risks in a way outside of creating, but the perfectionist in me is always kind of like, 'You're not ready for this! We're not ready for this! You're not cut out for this!' but I think that's also just a human thing to be feeling as well.
"We always just want to deliver the best things we can, whether that's through the shows or through the records and when I feel like we can't do that I get really kinda scared and self-doubting, but I feel that goes away as soon as we step on stage for these crazy shows."
HAVE THINGS LIKE THAT BEEN A REMINDER OF HOW MUCH YOU MEAN TO PEOPLE? 
"Definitely yeah, even if like I say I can't deliver my best a certain day or a certain night, you have to just step back and look at people and see how they're responding and how they're feeling be like, 'You know what? It doesn't matter, these people are enjoying this regardless' and that's the biggest thing – they're feeling something."
DO YOU THINK A LOT OF THAT COMES THROUGH PVRIS BEING SO UNIQUE? 
"Yeah, I wouldn't say it's an absolute necessity for a band to be like super unique in every way, because ultimately the main reason everybody's here for any band is for the music, but I think providing the visual elements and the "aesthetic" is just fun, it's just like an extra, like the icing on the cake for us, but it's also really important at the same time for it to line up with the music and for it to make sense and to be just as well done as the music, so it's like a little bit of both."
REMEMBERING TO HAVE FUN AND HAVE THAT PASSION IS THE MOST IMPORTANT THING WHEN IT REALLY COMES DOWN TO IT.
"Absolutely yeah! If you're not having fun and you're not passionate about what you're doing and you're not enjoying it, what's the point? And I think people really pick up on that and that's another integrity thing I really want to stick by – it's like, if we wake up one day and we stop enjoying creating, we're just not going to do it – there's no point. That's the main reason we're here, that's the main reason we started making music, because we love doing it, we love creating. So I think for any band that's the most important thing, if you're enjoying it – that's all that matters."
Pick up PVRIS' limited edition bundle from awards.rocksound.tv!