An unidentified flying object seen in the night sky over Leeward, Oahu, prompted witnesses to call 911 last Tuesday (December 29). The sighting occurred around 8:30 p.m.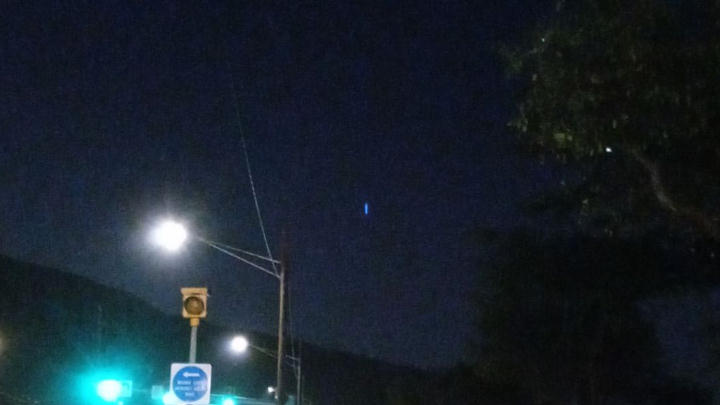 There are several videos of what appears to be a shiny oblong mass, both in the sky and in the water. Officials with the Federal Aviation Administration (FAA) say there were no aircraft incidents or accidents in this area at the time. However, several witnesses reported seeing a large blue object fall from the sky into the ocean.
In one video, a woman can be heard saying, "Something is in heaven. What is that?"
? HONOLULU, Hawaii – An unidentified flying object spotted in the evening sky over Leeward Oahu prompted witnesses to call 911 on Tuesday. The sighting happened about 8:30 p.m. There are multiple videos of what appears to be a glowing' oblong mass.#Hawaii #UFO pic.twitter.com/0DnxoEwnHR

– Maksel (@GregMaksel) January 1, 2021
Misitina Sape told the local agency Hawaii News Now which captured the image at 8:26 pm near Haleakala Avenue in Nanakuli. Not long after, another woman named Moriah saw what looked like the same object passing over Princess Kahanu Estates.
"I looked up and then I was like 'oh shit!'" She said. "I started calling my husband and family, because they were all in the garage. I was like "Hey, come here! Look at that and tell me if you see what I see ". They all said yes! "
The 38-year-old claims that she has never really believed in UFOs, but the glowing blue object had them so intrigued that they got in the car and started following it. "I don't know what it was," he admitted. "This one was going very fast."
Well that didn't take long, Aliens back in the news cycle. https://t.co/ht3O97EVXO

— XRP-Wing (@XRP_Wing) January 1, 2021
The journey ended less than three miles from where it began. The witness says the car was stopped on the Farrington Highway, in front of the Water Supply Board building, after the object appeared to fall into the ocean.
The object was described as being larger than a telephone pole and flying without making a sound.
"We called 911," Moriah explained. "We wanted to have a policeman or someone to confirm what we saw."
A second ufo
While officers were on the scene, Moriah says they saw a second light. "My husband looked up and saw a white object coming," she noted. «It was smaller. It was coming in the same direction as the blue one.
The UFO was lost from sight after it passed over a nearby mountain.
On Thursday morning, local media asked Honolulu police if investigators discovered what fell into the water. A spokesperson responded that they had no information.
Meanwhile, FAA spokesman Ian Gregor said the agency received a police report Tuesday night about "a possible plane that had fallen in the area," but that "no aircraft disappeared from radar." . And "there are no reports of late or missing aircraft."
Although Moriah has had a couple of days to think about it, she says she is still puzzled by what she saw. "I don't know to this day," he laughed. "If you can find out what it was, I'd like to know."
Source: Hawaii News Now